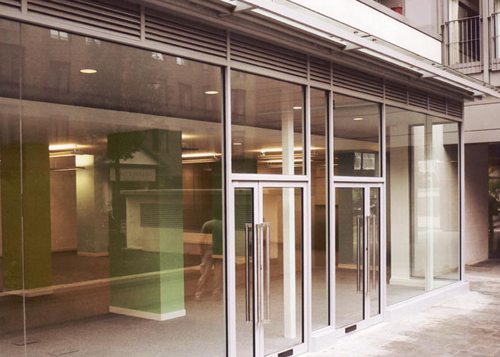 Aluminium shop-fronts are versatile and very economical offering a wide variety of window arrangements to suit every type of location, whether they are retail outlets, reception areas, commercial entrances or shopping centres.
The light weight texture of Aluminium keeps its demand everlasting in the commercial market. It is corrosion free and durable which makes Aluminium doors very popular. Shopfronts can be made very creative in terms of design with use of Aluminium. This gives it a benefit over toughened glass shopfronts. We provide shopfronts according to the specification from the clients. Our variety ranges from laminated safety glass 6.4mm to 10.8mm, fire rated pyro glass, tinted glass and double glazed unit.
With the modular design afforded by Aluminium shopfronts, a large degree of interchangeability and security can be achieved where windows can be repaired, replaced or even reconfigured to take account of the changing business environment.